How to play the game "Angry Birds in Love Game"?
There are always new surprises waiting for you in our girls' games! Today we have a super fun animals game for you, based on the famous (and very additive!) 'Angry Birds'. In this version of the popular puzzle game, the Angry Birds are more furious than ever because they can't fly over to their girlfriends. Think you can give them a hand in this surprise game for girls? The Angry Birds will be very happy if you can help them reach meet their true loves, so aim carefully! Read more
To play this free strategy game for girls, just use your mouse to drag and aim the Angry Birds, then let go to see them catapulted through the air. You'll earn 100 points for each boy bird you can match with a girl bird, and you'll win big bonuses if you can hit all of your targets with one shot. You'll need to practise lots if you want to reach the high scores in this Angry Birds game... it's super addictive! If you love puzzle games and strategy games like this one, make sure you keep checking the surprise category of the site – there are loads more challenges for you to tackle!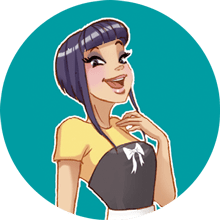 Angry Birds in Love is one of my favorites! We clearly have awesome taste! Come and play more of my fave love games!