How to play the game "A Virtual Top Model Game"?
Elodie is a young top model who spends much time on the podium. she is very requested by styles and stylists around the world because her face and body can adapt to all different fashions. In this model game for girls, you will be able to change her clothes to suit a new fashion style and change her hair color and hair style too. Read more
Use the arrow to go to the selection of clothing and buttons I, II and III in the bottom left of this girls makeup game, and there you can discover new accessories, jewelry and shoes to finish the outfit off. By clicking "next" you will see Elodie appear on the catwalk for the parade. You can repeat this free make up game for girls as many times as you want because Elodie loves being beautiful.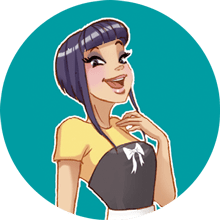 A Virtual Top Model is one of my favorites! We clearly have awesome taste! Come and play more of my fave model games!