How to play the game "A Princess in Candyland Game"?
Have you heard of Princess Lolly? She lives in Candyland in a world of sugar...we're talking chocolate, marshmallows, gummy bears and rainbow drops! Mmm. This pretty princess loves to indulge in all these sweet treats, but she knows she shouldn't overindulge. So, instead of eating all the candy, she uses it in her clothes and beauty products! Read more
In Lolly's bathroom cupboard you will find lots of fruity beauty booty containing strawberry, lemon and lots of other sweet scents. Mmm, we would really like to eat them, wouldn't you? Don't forget to dress up Princess Lolly when you've finished beautifying her. Use your imagination! There are all sorts of colors to play around with. You can also add cute accessories with muffins, cupcakes and candy on them. This dress up game is awesome! We wish we could live in Candyland...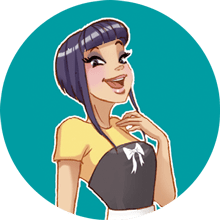 A Princess in Candyland is one of my favorites! We clearly have awesome taste! Come and play more of my fave princess games!