How to play the game "A New Hairstyle for Princess Tiffany Game"?
Tiffany is what you might call... a princess of the 21st century! She likes to ride a horse and attend parties and balls like any other princess, but when it comes to her look, she turns into a young fashion addict! This is particularly true for her hair. She is always trying out new styles, cuts and colors. Read more
She's not great at styling her hair though. When it comes to straighteners, curling irons and tongs, she needs a little help! Would you like to style a princess' hair? Start by shampooing her hair and then apply a creamy conditioner. Then, you can either straighten the hair or curl it. Don't forget to choose a nice dress to showcase her beautiful hairstyle. Wow, Princess Tiffany... you look gorgeous!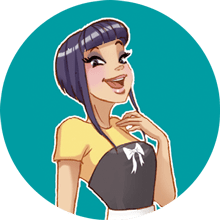 A New Hairstyle for Princess Tiffany is one of my favorites! We clearly have awesome taste! Come and play more of my fave hair games!