How to play the game "A makeover game for girls"?
During this extreme makeover and makeup game you can create the character that you like the most or who is most like one of your girlfriends. You will choose the shape of the face and skin color, then go to the hairdresser. First decide on the haircut and color. Then in this relooking game and make-up girls game, you should do the same with the eyes. The shape of the mouth will complete your makeover and you can add a touch of lipstick to complete the makeup. Read more
There are lots of great free makeover games, make up games and lots of other kinds of games too like racing games or waitressing games. Mygames4girls.com is the best girls games site out there, and it's all completely free. Don't forget to register as a member (for free) so that you can use the forum to make new friends!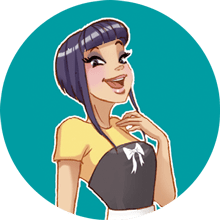 A makeover game for girls is one of my favorites! We clearly have awesome taste! Come and play more of my fave makeover games!