How to play the game "A Ballet Dancer To Dress Game"?
Ballet is a type of dance that originally comes from France but has become really popular now all over the world. It's very technical and people train for years and years before they are good enough to be in the big shows! Normally people do ballet to classical music but now this is starting to change and people dance to modern music too! Vicky is a ballet dancer and like other dancers she has trained for a long long time. Read more
Tonight is the first night that Vicky will perform her dancing in front of a large audience, so she's already pretty nervous. She has some wonderful ballet dresses, jewelery, wigs, shoes and plenty of make up, but what she needs is you to help her put it all together to make one fantastic outfit! Her audience is already starting to arrive though so don't take too long!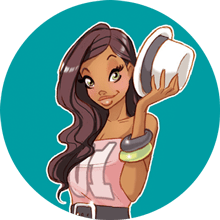 You're clearly loving A Ballet Dancer To Dress - you should check out my pick of the best dress up games!