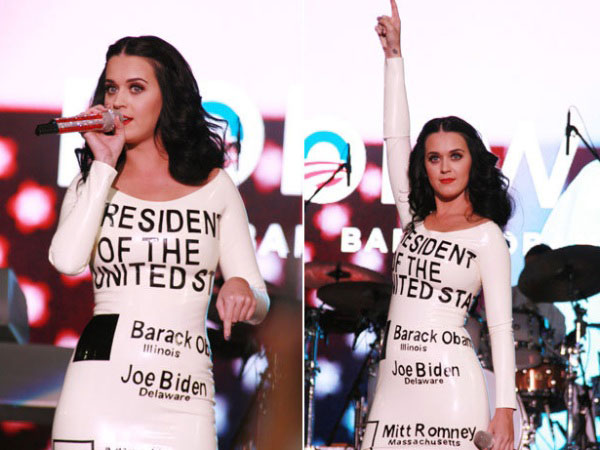 After months of campaigning, Barack Obama and Mitt Romney are finally set to go head-to-head today as America chooses its next president. You may be too young to vote, but most of your favorite celebrities aren't! Here's a quick run-down of who will be voting red or blue in the election:
Standing for issues such as cheaper healthcare, abortion rights and gay marriage, dozens of stars have claimed their place on Team Obama. Amongst the many celebrities who have backed the current President's bid for a second term are Will Smith, Gwen Stefani, Ben Stiller, Ellen DeGeneres, Eva Longoria, Neill Patrick Harris, George Clooney, Jay-Z, Beyoncé, Nicki Minaj and Katy Perry, who has even worn a couple of ballot dresses showing her support for Mr. Obama.
Mitt Romney is calling for lower taxes, stricter immigration laws and opposes abortion rights. The Republican candidate has enjoyed donations from Meat Loaf, Clint Eastwood and Scott Baio... er, no, we haven't heard of him either.
Looks like Team Obama wins in Hollywood! But will he win in the polls, where it really counts? Who do you want to be the next President of the United States? Leave us a comment to join in the debate!
Image: WENN
Add My Comment!