How to play the game "Vampire Dress Up Game"?
"Veee don't vaaant to scare you but there's a vampire standing right behind you...muahahahaaaa." We're taking you to deepest, darkest depths of Transylvania in this dress up game for girls. Meet Vampira, she's the sweetest vampire you'll ever meet, but she has a very dark side. Exploring in her part of town, you've become lost, and it is Vampira who emerges from her coffin to help you find your way. She wants something in exchange though, something that is only yours, something that runs through your veins...she wants...your excellent sense of fashion of course! What? What did you think we meant? Read more
It's hard to be a vampire sometimes. Making friends can be a real pain in the neck. In this free dress up game for girls, return Vampira's friendliness by giving her a vampish new makeover. Dress her up in different gothic dresses, accessories and jewelry from her wardrobe. She needs a chilling new hairstyle too. Wow, her outfit is to die for! We wouldn't stick around for dinner if we were you though...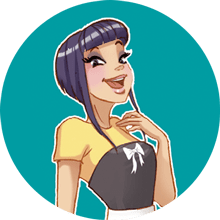 Vampire Dress Up Game is one of my favorites! We clearly have awesome taste! Come and play more of my fave dress up games!