How to play the game "Valentine's Party Game"?
Laura has had such a busy week in this free cleaning game for girls. Between work, her family, her dog and her friends, she has barely had time to stop! One of the things that has kept her so busy has been the preparations for a surprise Valentine's party for her boyfriend! She really wants to show him how much she loves him! She's bought flowers, balloons, banners, cakes and drinks. So, you'd think the party is ready to start this Valentine's Day, right? Wrong! The house is super messy and dirty, and Laura doesn't have much time left. Can you help? Read more
In this free girls' game, Laura needs to get the house clean and tidy before her guests arrive. Every room needs a clean up, she can't do it by herself! Pick a room and get to work, some things need to be stored and some need to go in the trash, you have enough experience with free games for girls to know what to do! Remember, the most important room is the living room, that's where the party will be happening! Wow everything looks perfect for Valentine's Day! Heart shaped balloons, red velvet sofas, a huge cake, gifts and a banner...Laura's boyfriend is a lucky guy, this must be love! How pretty do you think you guys can make the house look before he arrives? It's clean up time!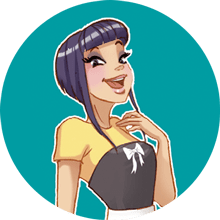 Valentine's Party is one of my favorites! We clearly have awesome taste! Come and play more of my fave free games!