How to play the game "Pirate Dress Up Game"?
Ahoy, me hearties! 'Tis First Mate Lilou here wi' a swashbucklin' dress up game for all ye pirate girls! Grab yer cutlass and yer compass, because today you'll be climbin' aboard the Devil's Pearl, the most fearsome pirate ship that e'er sailed the Seven Seas. Cap'n Rosie be takin' the helm in this pirate dress up game, but she needs to look the part before she sets sail! Rummage in the ship's loot and help this pirate girl find some clothes fit for a courageous captain like herself. Read more
This pirate girl will be sailin' through the Caribbean in search of Dead Man's Meadow, a desert island where, as legend has it, a thousand gold doubloons lie buried deep beneath the sand. Open Cap'n Rosie's treasure chest and sneak a peek at all the pirate costumes this brave girl has picked up on her adventures: ye'll find pirate hats, eye patches, swords, parrots and all sorts of loot here! Our girls' games be the best around, so keep browsin' MyGames4Girls.com fer more pirate fun!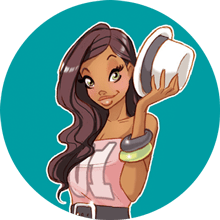 You're clearly loving Pirate Dress Up - you should check out my pick of the best dress up games!