How to play the game "Dress Up Game with Boyfriends"?
Valentine's Day is coming up in these girls' games, and guess how many boys have asked Kim out on a date? Four!! She sure is one lucky girl! In this Valentine's Day dress up game, you'll get to play Cupid and create the perfect date for Kim. Pick which of the four boyfriends you like best, dress her up in a cute outfit, then find the perfect spot for their romantic date together. Read more
Like all of our dress up games, you'll find lots of cute clothes in Kim's wardrobe today: dresses, skirts, shoes, even hairstyles and jewelry. Once you've dressed her up in the perfect outfit, pick where she's going to go with her new boyfriend. How about the beach, a bar or maybe an expensive restaurant? It's up to you in this dress up game - keep your fingers crossed it works out for the cute couple!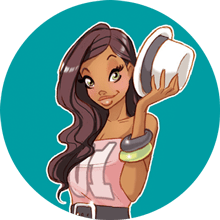 You're clearly loving Dress Up Game with Boyfriends - you should check out my pick of the best dress up games!