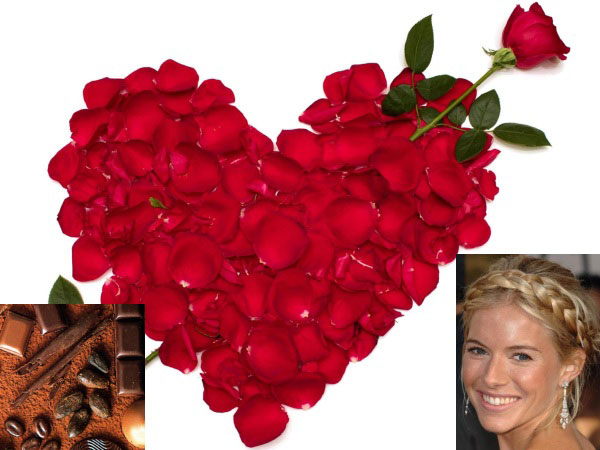 Ahh Valentine's Day…kisses, hugs and chocolate! Isn't it great having a whole day each February 14th to celebrate love? We wish we could have two! We want to have an amazing time and having aching jaws from smiling so much (and eating so much chocolate). For guaranteed happiness this Valentine's Day, follow our essential tips:
It's a date
Have you got a boy to spend Valentine's Day with? If so, we hope he's booked a table at the best restaurant in town! Make sure you dress for the occasion…he'll be so impressed! Remember, the colors of the day are red and pink. Wear either of these colors and the lucky boy will fall in love faster than you can say Cupid! For cute Valentine's hair, take inspiration from Sienna Miller and her braided crown. If your hair isn't very long, you can buy hairbands that look like braids. So angelic!
If dates aren't for you, ask your parents to help you make some Valentine's cupcakes or heart-shaped cookies, then give them to your crush at school! Just don't do it in front of all his friends or he'll go shy! You could even be extra brave and hold his hand in the playground this February 14th. Love is in the air!
Presenting…
On Valentine's day, the classic gifts are flowers and chocolates. So, a big bouquet of roses or a huge heart shaped box of caramels might be a little girly for the boy of your dreams, but we bet he still loves candy. Why not go for a big bar of chocolate, or some cute Hershey's kisses? Boys love to get Valentine's presents too! If you want to get something a little different though, go for a gift that will mean a bit more to him. How about a personalised mobile phone cover (you could even get it engraved with your name)? Or maybe a book, CD, DVD, tickets to see a band he likes…be creative, and remember that it's the thought that counts!
Flying solo
Being single on Valentine's day can be great fun. Who wants to be stuck in a boring restaurant when you could be out having a great time with your BFF? Everyone needs love, attention and affection, but you don't always need a boy to meet those needs. Spend time with your friends and family this Valentine's Day. You can do anything that couples do! Go to the movies, or a concert, or just stay in and have a gossip with a huge tub of ice cream! Who needs boys eh?
Whatever you get up to this year, just make sure you're hanging out with the person or people that you love the most. Don't forget to tell us what you get up to, we want ideas for next year! Happy Valentine's Day girls!