How to play the game "Tory, the Star Dancer Game"?
Ballet dancing is a sport that a lot of young girls love to do. They dream of becoming the head dancer and to dance all around the world. But to do that you need to practice for years, and be as light and graceful as angels. In this dancing game, Tody began dancing a few years ago, but now she has a very big important performance, where the scouts might choose her to join a very famous ballet school. Unfortunatly she needs to go and find a beautiful new outfit to wear for the performance so that the scouts only notice her. Read more
In this dress up game you need to choose a hairstyle and accessories to go with the outfit, so that Tory looks like a real professional head dancer. You'll have great fun with this unusual kind of dress up game for girls, so why not leave a comment underneath the game, or in the forum pages. Or else just see what other dance games and dress up games there on on this great website for girls..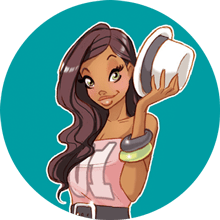 You're clearly loving Tory, the Star Dancer - you should check out my pick of the best dancer games!