How to play the game "Tomorrowland Game"?
Can you imagine what it's like to be a robot? It's probably pretty different to being a human, right? Robots don't have any emotions, they don't even have a heart! However, girl Robots still need to keep up with the latest fashions! Athena is the star of the cool sci-fi movie - Tomorrowland. She needs to save the Earth by finding out what happened to Tomorrowland, a place that exists only in another dimension. Before she can embark on her quest, she's going to need a look that makes her look just as fashionable as any human girl...can you help in this free dress up game for girls? Read more
In this free Tomorrowland game, you need to dress up this robot girl in some seriously futuristic fashion. The fashion of the future is very different to fashion today, so you won't find the usual items in Athena's robot wardrobe! Athena is the heroine of Tomorrowland, so make sure you dress her in an outfit that really makes her look the part. Don't forget the futuristic accessories, such as wings, head gear and plastic armour! Would you ever be friends with a robot? Or would you like to go to Tomorrowland? Share your comments after you've played this cool Tomorrowland sci-fi game!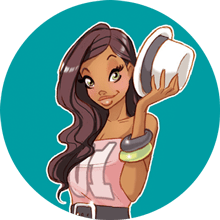 You're clearly loving Tomorrowland Game - you should check out my pick of the best dress up games!