How to play the game "Martine and Damien In Love Game"?
For her date this evening with her girlfriends, Martine would like to look just that little bit extra nice! She's planned to go with her friends to the cinema but she found out this afternoon that Damien is going to be there too with some of his friends. Since the beginning of the school year, she's noticed him and secretly she really wants to be his girlfriend! In this make up game you will have to make Martine over to catch Damien's attention, making her even more beautiful than usual using foundation, blushes and eye shadows, lipsticks and more. Once you have completed her makeup, she'll hopefully overcome her shyness and start a conversation with the beautiful Damien!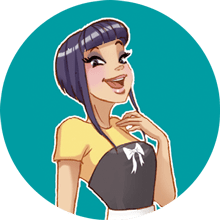 Martine and Damien In Love is one of my favorites! We clearly have awesome taste! Come and play more of my fave make up games!