How to play the game "Marilyn Monroe Dress Up Game"?
Boop boop-i-doo! Have you heard of Marilyn Monroe? She is an oh-so-famous and oh-so-glamorous Hollywood star from the 1950s. In this dress up game for girls, the icon has travelled into the future to visit you, as she has heard about your beauty and style expertise. She doesn't want a regular stylist or make up artist, she wants a modern touch to her style that only a dress up games expert like yourself can provide. Read more
Marilyn was known as one of the most beautiful and fashion-forward women on the planet, so you really need to enhance this natural beauty! Everyone in Hollywood is so excited! The press have heard about Marilyn's arrival and have asked her to accept an award at The Oscars, this is going to be worldwide news, so you need to make this starlet look amazing in this dress up game for girls! There are different hair styles, make up products, dresses and shoes to make Miss Monroe look fabulous. You are so lucky!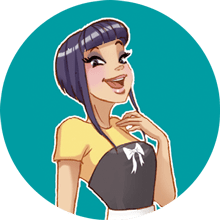 Marilyn Monroe Dress Up is one of my favorites! We clearly have awesome taste! Come and play more of my fave beauty games!