How to play the game "Manga Character Creator Game"?
Lots of girls know about Anime - it's the set of japanese cartoon characters that are really famous in the UK too now - they are in cartoons and computer games, and lots of other things too. In this game you can design your own girl Anime character. You can choose her clothes, her hairstyle, accessories, and you can reallyenter the world of the japanese manga designers! Read more
Starting from the top line of choices you can select the hair colour and style. Then, going down the rows, you can choose a top, then a skirt, then shoes, and finally an accessory to finish off her new look. If you want to change anything you can always go back and click on a different choice, or you can have nothing by clicking on thepink square - just make sure she's not left in her underwear!!! Why not print off your final design and put it up as a poster in your room! Your very own anime character!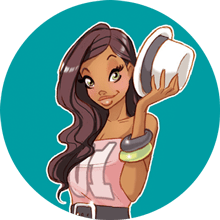 You're clearly loving Manga Character Creator - you should check out my pick of the best manga games!