How to play the game "Makeover a Princess Game"?
Tonight there is an event not to be missed! All the biggest stars, princes and princesses will come together at the biggest dance of the year. Sarah, a young princess, has just turned 18, so she is finally allowed to attend this annual celebration! She has waited all her royal life to get glammed up for this, after all, the most handsome princes in the land are going to be there! Can you help prepare her make up and clothes in this make up game for girls? Read more
This pretty princess is going to need a full makeover in this girls' game. We're talking hair removal, cleansing, exfoliation, moisturising, make up application...the lot! Once the beautifying is done you'll also need to move onto jewelry and clothes, it's not easy being beautiful you know! We know you're a pro when it comes to beauty and make up games, so show Princess Sarah what you can do! Help her look amazing so she can meet her Prince Charming...and don't forget to share your make up and beauty tips in the comments!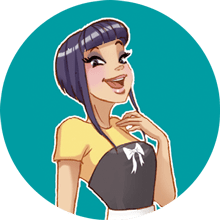 Makeover a Princess is one of my favorites! We clearly have awesome taste! Come and play more of my fave make up games!