How to play the game "Make Me A Fashion Diva Game"?
Caroline is a huge fan of TV shows! 90210 is her favorite. All the girls on the show are really beautiful and cool, her dream is to be just like them, a total fashion diva! Caroline has been working the same look for years, and although she looks great, she really feels it's time for a change. One thing's for certain, she wants to look like a TV star! Can you help her in this free beauty makeover game for girls? Read more
Caroline needs a complete new look, yes, a total makeover. Good thing you know what you're doing! Start with all the different beauty products, scrub, cleanser, face cream and lots more. Then move onto the other steps of the makeover; hair, jewelry and most importantly, the make up! Last but not least, you need to choose some stunning clothes for this celebrity diva wannabe! We wonder if Caroline will ever get to appear in a tv show like 90210? She's relying on you in this girls' make up game!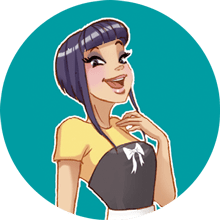 Make Me A Fashion Diva is one of my favorites! We clearly have awesome taste! Come and play more of my fave make up games!