How to play the game "Maïwenn, a little asian girl Game"?
With this new preparation game for girls, you can dress up Maïwenn, a little asian girl. You can choose everything about her - the colour of her skin (by clicking on the faces at the bottom), the hairstyle (long, short, up or down...and any colour you want!) and more! you can even change the time of year, so that it can be spring, summer, autumn or winter...and don't forget that if it's summer she'll want to dress nice and cool, but if it's winter it might be snowing so she'll need to be lovely and warmly dressed! Read more
This little girl loves her Chinese dresses, and it's quite fashionable here too now so there are lots of these to choose from. Remember to add some shoes or boots at the end - we don't want Maïwenn getting cold toes!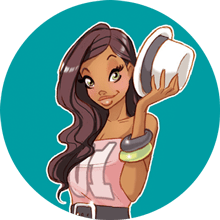 You're clearly loving Maïwenn, a little asian girl - you should check out my pick of the best dress up games!