How to play the game "Jewels and Fur Game"?
Brrrr, the holidays may be over but it's still freezing outside! In this free girls' dress up game, Gemma has just got a glamorous new job as a model and she really wants to show her new model friends how fashionable she can be for a night on the town...but OMG it is so cold! How can she possibly wear sheer fabrics and strappy shoes when there's such a chill in the air? Read more
In this free girls' game, you need to be Gemma's fashion designer. She has just become a model after all, so she'll need to get used to this kind of treatment! Don't worry, there are plenty of ways to keep Gemma both stylish and cosy. Jewels and fur are a classic combination, and can take anyone's look from drab nobody to Hollywood star! Choose from warm clothes and snuggly, furry accessories and then up the glam factor with sparkly, twinkly jewels. Gemma's new model friends aren't going to know what's hit them when they see her outfit, she looks a million dollars!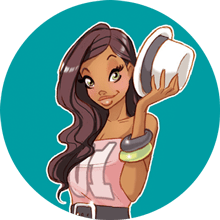 You're clearly loving Jewels and Fur - you should check out my pick of the best dress up games!