How to play the game "Hello Kitty Tic Tac Toe Game"?
Hello Kitty is a pretty little kitten from Japan. She is as tall as five apples, she has a twin sister called Mimmy, and her favorite subjects at school are English, music and art. In this cute cartoon game, you and Hello Kitty will get to play tic-tac-toe together against the computer. Just click the grid on the left-hand side of the screen, and Hello Kitty's face will appear. You need to place three Hello Kitties in a row to win, but the computer will place down hearts to try to block you. You can choose four levels in this puzzle game, from easy to very difficult: start with level 0, and work your way up to level 3 if you want a real challenge! Read more
She might be small, but Hello Kitty is famous all over the planet! If you're a big fan of this cartoon star, you can use the search bar on MyGames4Girls.com to find many more games starring the world's favorite cute little kitten. Have fun!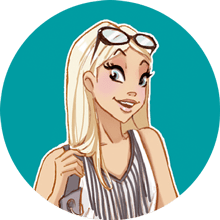 If you enjoyed Hello Kitty Tic Tac Toe, you'll love these puzzle games just like me!