How to play the game "Hair and make up time Game"?
Wow! Look at beautiful Lolita! There are lots of dress up games around, but this one is really special. If you love elegance and looking lovely, you'll really love to dress up Lolita. She's naturally very beautiful anyway, but in this great game for girls you'll be able to give her some really "pizaz!". Start by clicking on her hair to give her a whole new hair style. There are lots of great styles, so become a real hairdresser and choose what looks fantastic on her! When you're finished doing that, click on her clothes a few times to see some of the beautiful outfits that she has looked out to try on! Which outfits go best with which hair styles? Thats up to you! Read more
When you're ready, move on to her make up. There are so many different colours and styles in this dress up game, you'll not know where to begin! And the jewelery she has is stunning too. You'll have a really good time playing this fun game for girls because dress up and make up and hair dressing are all so much fun...and this game has all three!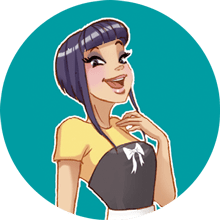 Hair and make up time is one of my favorites! We clearly have awesome taste! Come and play more of my fave make up games!