How to play the game "Gigi, the fairy Game"?
You've surely always dreamed about being in your very own fairy tale, or meeting your own prince charming. What would your heroin look like? Your very own fairy - what would she wear, or how would she colour her hair? There are so many great choices in this lovely fairy dress up game and make up game - yes, it's two games for girls in one! Click on the pictures at the bottom of the game to look at the different parts of her look that you can change, and then look at the list on the right hand side to choose which look you want to have on your fairy. Read more
There are so many very important parts of this fairies make up that you can choose in this good game for girls, and anyone who loves dress up games will just love this one, esspecially for girls who love fairies. Don't forget the name of your favourite website for games - my games 4 girls!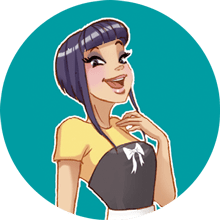 Gigi, the fairy is one of my favorites! We clearly have awesome taste! Come and play more of my fave make up games!