How to play the game "Getting Ready for a Date Game"?
Alexa is a shy girl. But today in this free make up game she is super excited. Why? Well, Matthew has finally, very bravely, declared his love for her! For months and months Alexa has felt the same way, but she never had the courage to tell him. This is the happiest day of her life! Tonight, they have a big first date planned. It's sure to be a romantic evening; the beach, the sea, the sunset...perfect. Alexa has a slight problem though that could mean she will miss the date! Read more
Alexa's sister has ruined all of Alexa's best make up and clothes, and now she has nothing to wear! She needs the help of an expert make up gamer like you to make her look beautiful. In fact, she's going to need a whole makeover. Start with a hairstyle, then move onto make up and jewelry. Finally, choose from different dresses, tops and pants to finish the look. Don't forget a jacket and a scarf, it can get a bit chilly in the evening on the beach! Hurry Alexa, you're going to be late! Would you ever like to have a date at the beach like the one in this girls' makeover game? It's so romantic!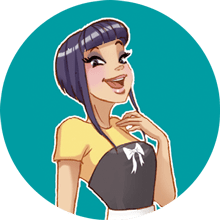 Getting Ready for a Date is one of my favorites! We clearly have awesome taste! Come and play more of my fave makeover games!