How to play the game "Gadget Girl Dress Up Game"?
Margaret was so spoiled last Christmas, her parents bought her an iPad! She's now building up a great collection of Apple products in her room; an iPhone, iPod, mac...what a lucky girl! It's the summer holidays right now and all of Margaret's friends have gone away on holiday! She's all alone and a little bored. "Mom, I'm bored!" She started complaining, until her mom reminded her about all the cool gadgets she has in her room! So, she's decided to spend the day playing games, listening to music and watching movies. Sounds cool! Read more
However, as a girl, even if we're staying at home all day, we still like to look pretty! The perfect pyjamas and a cute hairstyle can give a great boost to a girl's confidence, even if she is just lounging around! Come and choose a super comfy outfit for Margaret in this free dress up game. What will you pick? A skirt or pants? Sneakers or fluffy slippers? The right gadget is crucial too, do you think Margaret's in the mood for music or free girls' dress up games? Her favorite past time is playing on the iPad! What do you do when you spend the day at home in cute pjs? Tell us in the comments!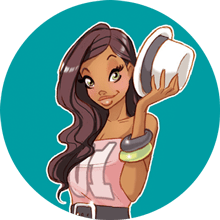 You're clearly loving Gadget Girl Dress Up - you should check out my pick of the best dress up games!