How to play the game "Gabrielle, a future top model Game"?
Gabrielle had a career with ups and downs, but for some time fortune has been smiling on her. In fact she has been selected to design the brand of new perfume that will be in all the shops. She knows that this is her big change and that this needs to be her best work ever. This make up game for girls is going to be great fun for you girls! Read more
Gabrielle knows that you have done a makeover on several of her top model friends in other girls make up games and she knows that she can trust you. In this girls make up game, you will be able to use the make-up and also add accessories to make her even more beautiful in this model game. Click on her hair and her clothes to completely change her look and you also have great choice of new clothes and hairstyles. One of the most fun girls make up games for girls here on mygames4girls.com !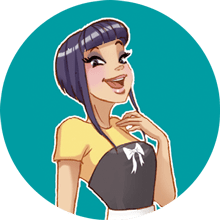 Gabrielle, a future top model is one of my favorites! We clearly have awesome taste! Come and play more of my fave model games!