How to play the game "Fashion Designer Handbags Game"?
Every girl needs a nice handbag to put her make up, cell phone and other accessories in. In this girls' game, you're an intern at the world famous Spirit Fashion House in New York City, where some of the world's most exclusive handbags are created. You've really impressed your fashion designer bosses with all of your hard work, and now they've put you in charge of a very special project: you need to design and decorate a new handbag for a very famous actress to model on the cover of a magazine. This is the chance of a lifetime, so make the most of it and pour all of your best ideas into this girls' game! Read more
Just like dress up games and other girls' games, this fashion game lets you get creative and design the perfect accessory for this young celebrity. Whether you want to create an elegant black bag with gold buckles or a leopard print purse with tassels, it's totally up to you: in girls' fashion games, you're the head designer. Have fun with this design game, and make sure you try out the rest of the fashion games on the site!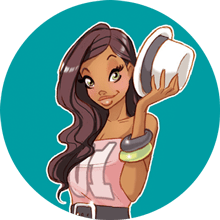 You're clearly loving Fashion Designer Handbags - you should check out my pick of the best fashion designer games!