How to play the game "Fashion Designer game"?
Have you ever dreamt of being a fashion designer? In this awesome girls' game, you'll get the chance to test your skills as a designer and a glimpse into the exclusive world of fashion! You'll have to use your eye for style to dress up models in professional, casual and dressy styles, complete with matching make up and accessories. It might sound easy, but you'll have to work hard to create the perfect outfits if you want to impress your boss! Read more
In this great dress up game, you get the chance to work for a prestigious design studio in one of the world's style capitals: New York City! You'll have to dress three models for an exclusive fashion event, so rummage through the shelves until you've found the right outfit for each girl. Your boss will be waiting to give tips before the show. You should take their advice on board, because the editor of a famous fashion magazine will be judging you when your models walk the catwalk! You'll be given comments and a score for each outfit, but don't worry if you don't get five stars right away - you can play as many times as you like until you hit the high score. Make sure you check the rest of our great free dress up games for lots more fashion fun!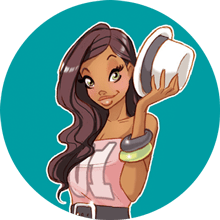 You're clearly loving Fashion Designer game - you should check out my pick of the best dress up games!