How to play the game "Fairy Outfit Dress Up Game"?
Holly is no regular fairy. She spends her time fighting crime in London town. She may be small and sparkly but she's tough as nails! She has to focus all her attention on protecting civilians, so she doesn't have time to worry about fashion or her hair! However, she is a very girly fairy at heart, so in this free girls' game, you need to help her look gorgeous. Read more
Holly has become very famous, so she always has cameras following her about. Can you dress her in an outfit that will make her look amazing and yet still allow her to fly around quickly to scary crime scenes? Speaking of flying...don't forget her wings! Once you've finished enjoying this free fairy dress up game for girls, make sure you check out more dress up games on the site. It'd be a crime not to, and Holly hates crime!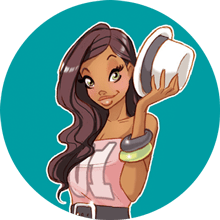 You're clearly loving Fairy Outfit Dress Up - you should check out my pick of the best fashion games!