How to play the game "fairy game"?
Flora is a small fairy who lives in an enchanted world. She lives in a village where the houses are made of colorful mushrooms. This village is near the castle where she works as an advisor to the queen. She must respond to every wish of her ruler. But today, she can't get to the castle as a nasty storm has hit the village and she will have to put everything in order with her magical fairy powers. Read more
In this decorating game for girls, she will put the houses, flowers, animals and even small clouds in the right place, but for a clue you could click on the green question mark in the top right of this fun game. In this decoration game you can also enjoy the sounds of the forest, which will show you that calm has returned and that the storm has passed. Do your best to help Flora in her reconstruction mission and all the inhabitants of her village will thank you warmly.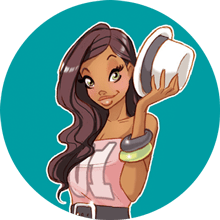 You're clearly loving fairy game - you should check out my pick of the best decoration games!