How to play the game "Dress Up a Native American Game"?
Come and visit Imala with us, a 13 year old Native American girl who lives with her family in Yellowstone Indian Reservation, in the USA. Imala is very excited because it's the first time she will attend a powwow, a gathering of Native American tribes. This is an important day, because it means that Imala is no longer a child and has to start behaving like a grown up...dun dun dunn! It is crutial that Imala looks immaculate for the powwow, can you help her in this free girls' game? Read more
Imala is no longer the little girl she used to be, running barefoot with the wind in her braids through the hills of the reservation. She is a woman in this free dress up game, and she really wants to dazzle all the other girls like her from other tribes. She has a problem though, she is clueless when it comes to fashion! Luckily for her you're a fashion expert, so you can step in as her stylist! Choose a nice dress, hair accessories, crowns, feathers and more...Native American fashion is seriously cool, don't you think? We hope the powwow goes well for Imala!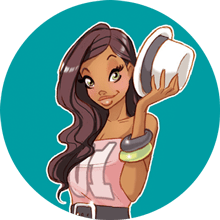 You're clearly loving Dress Up a Native American - you should check out my pick of the best fashion games!