How to play the game "Doll Dress Up for Girls Game"?
Do you love playing with dolls? In today's girls' games you'll meet a group of adorable little rag dolls who have been made from recycled fabrics and magically brought to life! This dress up game for girls will let you dress up a cute little rag doll called Thea Teddytops. It's a lovely sunny day, so she's getting ready to go and play with her doll friends in the park. Can you help her choose a pretty dress for her day out in this free doll game? Read more
Like all of our star dress up games, there are lots of pretty items of clothing and toys for you to choose from here: just click on the flower icons to see all the dresses, t-shirts, shorts, skirts, shoe and accessories in Thea's wardrobe. Each of these rag doll girls is very special and unique and has a special pet to keep her company; Thea's is a teddy bear, so don't forget to choose a toy to take to the park with her!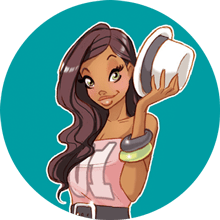 You're clearly loving Doll Dress Up for Girls - you should check out my pick of the best doll games!