How to play the game "Dog Walker Style Game"?
Cindy has just moved to a new town. She really needs to make friends, but isn't sure how. She thought of a great idea though, and has decided to get a part time job as a dog walker! That way, she can make lots of friends with fellow dog-lovers. And, who doesn't like dogs? She wants to make a good impression on her first day on the job though, can you help her? Read more
Cindy's style is quite emo; so choose from cute dresses and knee socks in neon colors. You'll see lots of cute patterns too...Cindy loves her stripes! Don't forget to add some cute accessories, she has an awesome jewelry collection! As a final touch, you can choose a pretty hairstyle. Now, where would Cindy like to go on her first dog walk; the park or the beach? You decide!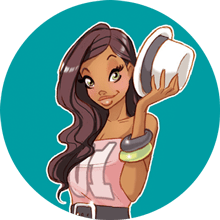 You're clearly loving Dog Walker Style - you should check out my pick of the best dog games!