How to play the game "Disco Dancers Game"?
Training, learning new routines, performing shows...the life of a dancer is always exciting! Do you know what's even more exciting than the dancing though? The outfits of course! There are so many different styles that a dancer can get away with, they can be as adventurous as they like! Carla and Paul are two professional dancers that are ready for a dancing session in this dress up game, but they need a little help...they have no idea what to wear! They perform dance shows all over the country and so always have the opportunity to try out lots of different looks, but sometimes they run out of inspiration! Can you help them out? Read more
What dance do you think Carla and Paul will be performing today? A tango? Salsa? Waltz? We think...disco! Check out the funky outfit combinations you can put together for this cool couple in this free dress up game for girls. We reckon they're going to want to use you as their stylist again and again, so don't let them down. Would you like to be a stylish dancer when you grow up? Try out more dancer dress up games on the site to find out! Now, it's time to boogie on down...D-I-S-C-O!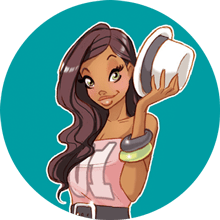 You're clearly loving Disco Dancers - you should check out my pick of the best dress up games!