How to play the game "Ballerina Dress Up Game"?
Melanie is a ballerina at the Paris Ballet Opera. There is a performance tonight, which iis so exciting for Melanie, as she has never performed in front of anyone before! She really wants it to be perfect. She knows the choreography off by heart and knows that she is a good ballerina, but she's not that great when it comes to fashion and style. In this dress up game, you need to help her create a look that will wow the crowds. Read more
Step into Melanie's dressing room... wow, we've never been backstage at the ballet before! Choose from all the ballet fashion on offer to transform Melanie into a beautiful ballerina. Her wardrobe contains everything a professional ballerina needs. There are hair accessories, tights, ballet shoes, dresses, tutus and more. This is going to be a night to remember, but just to make sure you do, take a picture of Melanie!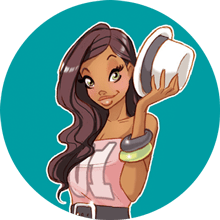 You're clearly loving Ballerina Dress Up - you should check out my pick of the best dress up games!