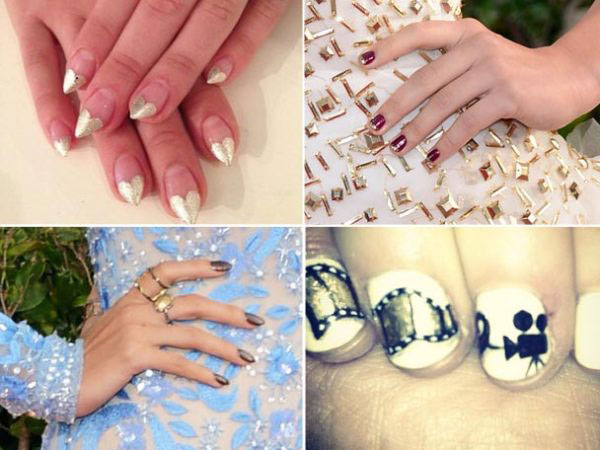 Are you bored of having the same nails every day? The usual colors and styles can get a bit dull after a while. Pretty nails are an essential part of any look, and they can say a lot about your personality. Think it's too much effort and you've got no ideas? We'll let you in on a little secret...it's easier than you'd think. If you like to stand out from the crowd and are sick of having boring nails, you're going to love this blog post. We've stolen some 'naily' good ideas from the manicures of the stars. There are so many cool patterns to try, so read on and let your imagination fly...
If you love manicures that express your interests and quirks, check out Zooey Deschanel's nails. Zooey is always showing off her cute fingertips, check out the adorable film reel print she sported recently (see our picture)! Our favorite manicure of hers was the cute tuxedo pattern, perfect for any party! Just paint your nails white, let them dry and then paint on black tips. You can then draw on the bows and dots using either a fine brush, a cocktail stick or perhaps an eye liner you no longer use. Watch the video tutorial to find out more, it is so easy to do and totally worth it.
Another design we love is Kelly Osbourne's heart tips, also featured in our photo. Seriously simple and seriously glamorous. Use an emery board to shape your nails into a sharp point. Then, to get the top of the heart shape, draw a number three with a bright nail polish of your choice. Paint below it (towards the skin) in a colour of your choosing. Once that has dried, paint the tip in a nice contrasting colour. Kelly chose pink and gold, what colours will you choose? We love baby blue and pink!
The classic French manicure is something that will always be popular, and is great for anyone into retro style. It is so elegant and so easy to do, you have to try it! The usual colours for a French Manicure are pink and white, but you can give it a modern twist by using any colours you like! Which colours do you think go together? Don't forget to mix up textures too! Glossy, matte or glitter, you decide!
We want to know all about your cool nail designs. Please share your ideas, or inbox us your pictures on facebook! We'd love to get more ideas. Come on girls, let's nail this trend!
Add My Comment!