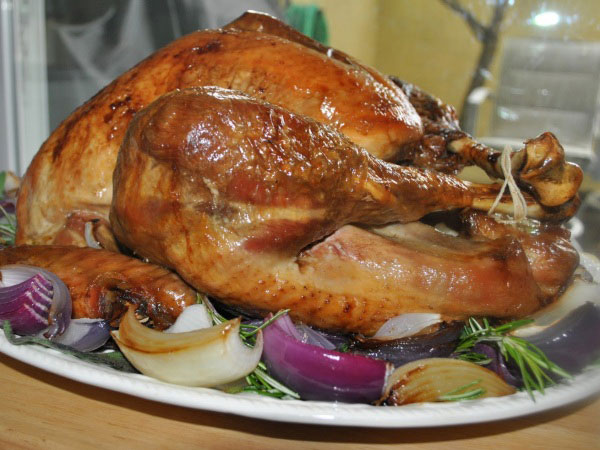 So you've already tried out part one of our Christmas dinner recipe collection, now it's time to tackle part two: the main! The time has come to roast the Christmas turkey! Make sure you have an adult on standby to help you, but we promise it's a lot easier than you may think to cook the most delicious turkey you've ever gobble gobble gobbled…
Traditional Roast Turkey
Ingredients:
- 1 turkey, about 4kg, giblets removed
- 125g butter, at room temperature
- Olive oil
- Sea salt
- 3 onions, halved, skins removed
- A large roasting tin
What to do:
The most important thing to remember when cooking a turkey is to switch the oven on! Heat yours to 180C/fan 160C/gas mark 4.
Pat the turkey dry all over with kitchen paper.
You might want to get an adult to help with this step, as it can be a little tricky. Push your fingers under the turkey's skin, starting from the neck end of the bird, easing the skin away from the flesh. Spread the butter under the skin on each breast then smooth the skin back into place.
Rub the turkey all over with olive oil and sprinkle with sea salt.
Put the halved onions in the bottom of a large roasting tin, they are going to act as props for your turkey. Sit the turkey on top of them and cover completely with foil, tucking under the tin to create a foil tent.
Working out cooking times can be confusing, so check with an adult. You need to cook the turkey for 25 minutes per kilo (so for a 4kg bird this will be 1 hour 40 minutes).
When your turkey has been in the oven for the required time, take it out. Be careful, it will be hot and very heavy! Turn the oven up to 220C/fan 200/gas mark 7. Remove the foil and return to the oven for a further 30 minutes.
After 30 minutes, check your turkey. It should be golden brown. Carefully remove it from the oven. Ask an adult to supervise as you check that the turkey is fully cooked. Pierce the fattest part of the thigh with a skewer. If the juices run clear, your turkey is cooked.
Leave the turkey to stand, covered loosely with foil, for at least 30 minutes, but up to an hour before serving. Make sure you strain the cooking juices, but hang onto the onions, as you can use them to garnish the plate which you display your turkey on.
Phew, that was hard work! We hope it's more relaxing to eat the turkey than it was to cook it! Now, onto something a bit sweeter…part three, dessert!