How to play the game "Top Model, Anita Game"?
A great game for girls here! In this game you'll have to dress up Anita - but you have SO much choice! There are so many different clothes and accessories and shoes and everything else! Anita is from Sweden and she has taken all her great cool clothes with her for you to help her try on! With her lovely thin figure and her big blue eyes, what outfit do you think will suit her best? Read more
Anita has a big choice if shoes and hates too, to go with all the many skirts and trousers and everything else! It's just like you're looking at her real wardrobe! But what will you choose? When you've finished, maybe you'll want to compare with your friends to see who has done the nicest outfit - or you can start again and give Anita a totally different look. Or else, why not have a go at one of the other games on our website specially for fun girls!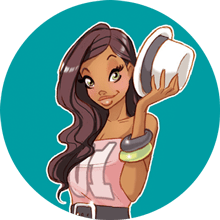 You're clearly loving Top Model, Anita - you should check out my pick of the best model games!