How to play the game "The Candy Pop Girls' Makeover Game"?
Heres a lovely make-up game. There are lots of girls to choose from to start with, so pick one of the Candy Pop Girls. Then just click on each tab to start giving your chosen Candy Pop Girl a great styled makeover. You'll haveto choose a hiarstyle, colour and even coloured streaks. Read more
Then you can move onto her make-up. You can even change her hats and add some hair acessories for the final touches.
When you like your design, just click the "DONE" button to see your finished masterpiece! Then if you want to give it another try (maybe with one of the other Candy Pop Girls??) click "START OVER" or you can print out your great makeover if you want to by clicking the "PRINT" button!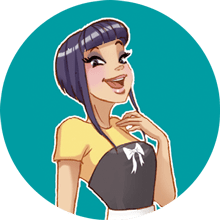 The Candy Pop Girls' Makeover is one of my favorites! We clearly have awesome taste! Come and play more of my fave make up games!