How to play the game "Slumber Party Dress Up Game"?
Anne is an exchange student in Tokyo, Japan, and lives in a beautiful apartment overlooking the city center. She hates hanging out alone, so she's invited some of her new Japanese friends round for a slumber party! Of course she has already bought ice cream, snacks and drinks, but she still needs to pick the perfect outfit to wear to chill out with her friends. In this dress up game for girls, you need to be Anne's stylist. You never know, she might even let you stay for the slumber party! Read more
So, in Japan, girls are into super cute fashion. The more adorable, the better! Dressing up is a hobby for most girls, so Anne's friends always look so cool! Help Anne to find a look that will really impress them in this girls' dress up game. Don't forget, this is a slumber party, so she needs to be comfortable as well as stylish. Check out the slouchy pajama bottoms and shorts, do you think they are Anne's style? If not, why not try out the sleek night dresses? She's definitely going to be the belle of the...bed! Now, where are those snacks?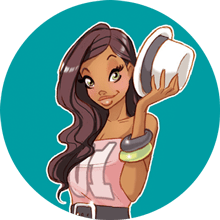 You're clearly loving Slumber Party Dress Up - you should check out my pick of the best fashion games!