How to play the game "Novi Stars Game"?
Get ready for a dress up game that's out of this world! The Novi Stars have just landed on Earth...you ain't seen nothin' until you've seen the kind of trouble these crazy aliens can stir up! Meet Alie Lectric, Una Verses, Ari Roma and the beautiful Mae Tallick! Mae is stocking up with clothes on the planet Earth in this Novi Stars game and she needs help finding the perfect style! Since you know so much about fashion and putting outfits together, would you mind giving Mae Tallick some fashion tips in this free game for girls? Read more
In this fun Novi Stars dress up game you will find a cool selection of clothes and accessories for Mae Tallick...you're bound to find something that suits her! Remember, Mae does love space fashion and her intergalactic look, so do your best to put something together that she will approve of. You are a fashion expert after all! Which is your favorite Novi Stars character? You can find out loads more about Novi Stars on MyGames4Girls if you can't make up your mind!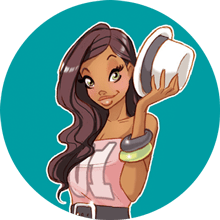 You're clearly loving Novi Stars Game - you should check out my pick of the best fashion games!