How to play the game "Las Vegas Wedding Makeover Game"?
Clara is not a conventional girl. She is constantly trying to escape; whether she's travelling, partying or dancing until she can dance no more! So, do you really think she would want a normal wedding? No way! Clara is not a big fan of traditional weddings, so she is going to go to Las Vegas instead! Woooo! Her fiancé is just as crazy luckily, and he can't wait to make Clara his wife! She loves him so much, and wants to look her best for him in this free game for girls. We think a makeover is in order! Read more
Girl, pick up your suitcase and don't forget to pack up your beauty and make up kits...you're coming along to Las Vegas! Clara knows you've got the moves when it comes to make up application, and she needs you there in the city on her big day. You need to give her a facial, apply her make up, choose her hairstyle and (drum roll please) pick out her dress! There's a lot of pressure here! Remember Clara likes to stand out from the crowd, so make sure her look is cool and individual. Now get ready for some fun in Las Vegas! It's always a good time with this beautiful bride!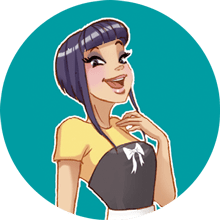 Las Vegas Wedding Makeover is one of my favorites! We clearly have awesome taste! Come and play more of my fave city games!