How to play the game "Fairy Bride Makeover Game"?
Do you know anything about the world of fairies? Did you know that fairies get married? Only fairies are allowed to attend fairy weddings, of course, but occasionally they do let someone from the human world visit the ceremony. Guess what? Today in this free make up game for girls, you have been invited to attend a fairy wedding! Teresa is a beautiful fairy bride, with so much grace and elegance. Today, she is marrying the fairy prince, who she has been in love with for years! She is about to become a Fairy Queen. There's one problem though…she has no idea how to follow beauty rules, dress or apply make up. We feel a makeover coming on! Read more
Teresa needs advice from a girly girl in this girls' fairy game. She normally uses her magic to apply her make up, but as it's her wedding day, she really wants to apply it herself. So, you must help her! Clean and prepare Teresa's pretty fairy skin, apply make up and then choose a beautiful wedding dress. To make her look even better, choose sparkly accessories like shoes and jewelry. Don't forget to sprinkle a little fairy dust around her in this beauty game…If you love fairies, you've come to the right girls' website!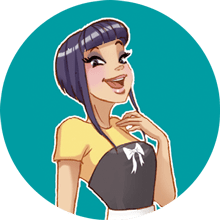 Fairy Bride Makeover is one of my favorites! We clearly have awesome taste! Come and play more of my fave fairy games!