How to play the game "Dress Up a College Student Game"?
Sophie can't wait to leave school, start college, make some new friends and finally be like her older sister...an adult! At long last, she'll be able to stay up late and go to parties with other students! While lots of people are annoyed that they have to go back for the new semester, Sophie couldn't be happier! In this girls' dress up game, Sophie is going to start college in style. Gone are her old folders and school uniform, she's swapped them for the finest handbags, skirts, dresses and more. In fact, there is so much fashion here to choose from, she's not going to have any time for studying! Wow, this is going to be very different to school! Read more
Help Sophie get ready for her first day at college by delving into her wardrobe to find the coolest looks. She's such a pretty girl, but she'll be so much more confident if she's wearing the latest fashion! She's also counting on you to help her find a cool hairstyle. Would you like to go to college one day? What would you wear for your first day? Tell us all about it in the comments section!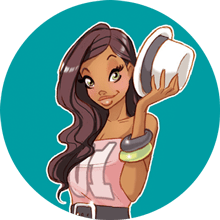 You're clearly loving Dress Up a College Student - you should check out my pick of the best school games!