How to play the game "Bling-Bling Dress Up Game"?
Jamie is one of the best dancers in her dance crew, not to mention one of the coolest girls in our dress up games! She started hip-hop dancing a few years ago, and since then she's developed a bling bling style which never fails to impress. Unlike the rap stars that you might have come across in our celebrity games, Jamie likes to mix a street fashion with elegance and style to create an awesome girly look. Check out her colorful wardrobe in this dress up game and choose an outfit for her to wear to the dance battle tonight! Read more
What's your style? Do you like bling bling jewelry and street dance fashions like Jamie? Or do you prefer cute, girly clothes? Either way, you'll love this fashion game for girls! Jamie has loads of cute sparkly dresses, glittery tops and colorful tights for you to choose from, so go wild and try out loads of cool new looks for her. Keep checking out the girls' games on the site for more fashions and trends, and have fun!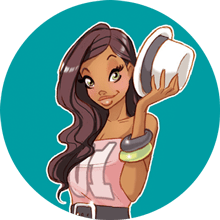 You're clearly loving Bling-Bling Dress Up Game - you should check out my pick of the best dress up games!