How to play the game "Awards Ceremony Style Game"?
Deborah is so excited. Three years ago she enrolled in her local drama school, and today she is a Hollywood star! Her life feels like a dream, sometimes she has to pinch herself to know that it's real! Tonight is the night of a very important awards ceremony. Deborah has looked elegant and sophisticated all evening, but, what comes after the awards ceremony? The after party of course! Deborah loves to dance and mingle at parties, so she wants a look that shows she's fun fun fun! Can you help her in this girls' make up game? Read more
Deborah's all for looking smart and grown up, but sometimes she just wants to let her hair down and be herself! She won three awards at the ceremony, so this party girl really has an excuse to celebrate! Help make a cute and fun look for Deborah using all the colorful make up on offer. Check out that wild eye make up! Deborah is definitely going to stand out from the crowd in this make up game for girls. There are also some glam but relaxed hairstyles to choose from, let the color do all the talking! Don't forget to add some quirky accessories and a sparkly outfit. Deborah's good to go...can we come too?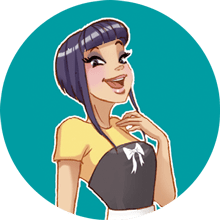 Awards Ceremony Style is one of my favorites! We clearly have awesome taste! Come and play more of my fave make up games!