How to play the game "Astronaut Girl Dress Up Game"?
Have you ever dreamed of being an astronaut? In this dress up game for girls, you will have the chance to meet a real female astronaut! Her name is Janet, and she is living her childhood dream of travelling in space. Her job is truly out of this world! Today she is going on her first major mission, a visit to the moon! She is so excited, but also so nervous! There are lots of camera crews and people watching her too, so she wants to make sure she looks amazing. She needs something practical, but still feminine in this free dress up girls' game, can you and your fashion know-how help? Read more
Step into the wardrobe compartment of Janet's space shuttle and you will find the most amazing space fashion. Moon boots, helmets, space suits, and gloves. Remember, lots of people are going to want to interview this young astronaut, so she also needs a beautiful hairstyle under that helmet! We want to have a job just like Janet's when we grow up! She's looking great, and now she's ready for countdown...3, 2, 1...BLAST OFF! We wish we could go to the moon too, but don't worry, our girls' games will take you away to the stars, just like Janet's space ship.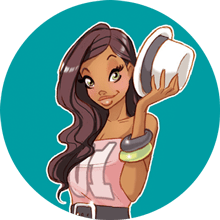 You're clearly loving Astronaut Girl Dress Up - you should check out my pick of the best jobs games!