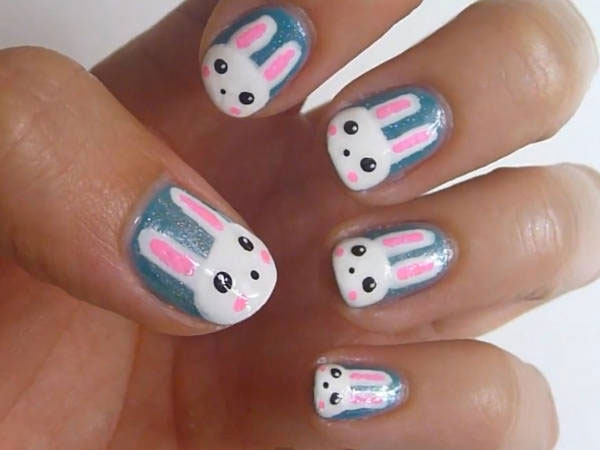 A step by step to the most adorable nails ever!
So this is the cutest mani we have ever seen. If you love nail art and you love bunnies, you are in for an adorable, fun and easy to achieve treat. Ready? Grab some nail polish in clear, blue, white, pink, black and glitter and click play on the video below. Let's nail this trend!
Nail art that you will heart!
We want to create this nail design right now! It's always cool to wear animals, whether they're on your clothes or nails, and these nails are so pretty. As you saw in the video, although the design looks so intricate, it's actually super easy to do! An important thing to remember though, make sure you let the layers dry in between application! You must be patient if you want to create the perfect bunny manicure, otherwise the colors will mix and you'll end up with some very strange looking rabbits…
So, you need to start with a layer of blue. When it's dry, add a layer of glitter. We love the shine at 0.10. Then take the white nail paint and create the shape of the rabbit. When you're ready, add pink ears and cheeks and then the eyes and nose with the black varnish. The bunny looks so cute at 0.44! Don't forget the transparent top coat to protect the design.
There are all kinds of nail art to try. It's really simple and you can have fun painting pandas, cats, dogs and more. Our favorite is still the bunnies though! What did you think of this manicure tutorial? Share your comments and tips, and don't forget there are loads of free manicure games on the site where you can pick up endless beauty tips!
Add My Comment!
Add My Comment!