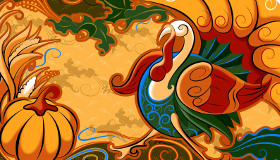 Are you feeling thankful this year? Thanksgiving is almost here, and we're lucky enough to have lots of things to give thanks for before we stuff ourselves full of turkey, cranberry sauce and pumpkin pie! Friends, family, food, good health... what's on your list?
Let us know what you're thankful for, and what you and your family have planned for Turkey Day. Don't forget to check out our Thanksgiving games, and our recipes on the blog too!
Happy Thanksgiving!
Lilou, Lea & Lee xoxo
Add My Comment!
Add My Comment!